Season Three
Comments

3
1,075pages on
this wiki

Season Three is the third season of ABC's Once Upon a Time. It was announced on May 10, 2013.[2] Filming began on July 11, 2013[3] and lasted until April 3, 2014.[4]
Season three premiered on September 29, 2013 with "The Heart of the Truest Believer" and will end with "Snow Drifts" immediately followed by "There's No Place Like Home" on May, 11, 2014.[5]
Potential Storyline Information
Please remember that everything listed in this section is just speculation, and plans may change as the season is developed.
For episode specific information, please see the articles for particular episodes.
Spoiler warning: Major plot information follows.
Spoilers end here.
New Characters
Recast Characters
Casting
Returning Cast Members
Starring
Guest Starring
New Cast Members
Lineup Changes
Videos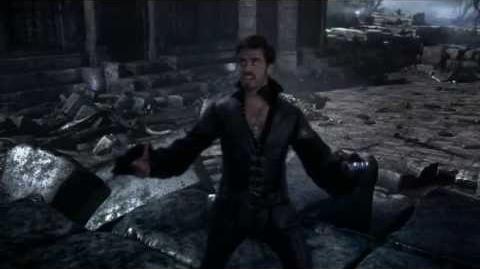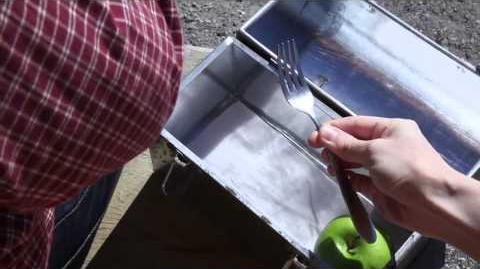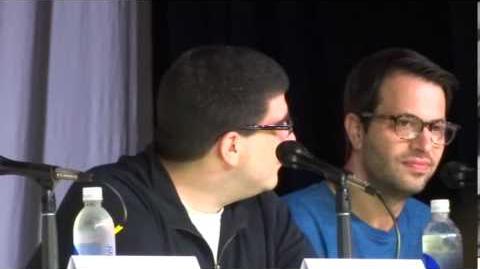 Episodes
Season Three Episodes

No.
Title
Directed by
Written by
Original air date
U.S. viewers

(million)

1

"The Heart of the Truest Believer"

Ralph Hemecker
Edward Kitsis &
Adam Horowitz
September 29, 2013
8.52[22]
As Emma, Mary Margaret, David, Regina, Mr. Gold and Hook enter Neverland to search for a kidnapped Henry, they're greeted by a school of not-too-friendly mermaids who threaten to end their search before it begins; Henry finds himself on the run from the Lost Boys with another escapee from Peter Pan's encampment; and Neal, recovering from his wounds, travels through the Enchanted Forest with Mulan in an attempt to learn the fates of Emma and Henry.
2

"Lost Girl"

Ron Underwood
Andrew Chambliss &
Kalinda Vazquez
October 6, 2013
8.00[23]
While Emma, Mary Margaret, David, Regina and Hook continue their search for Henry in Neverland, Peter Pan appears before a startled Emma and offers her a map that will reveal her son's whereabouts. But the only way to make the map appear is for Emma to stop denying who she really is and come to grips with her true feelings about her identity – and Mr. Gold receives some unexpected advice from a friend that could lead him to understand his life's journey while in Neverland. Meanwhile, in the Fairy Tale Land that was, when the Evil Queen presents Snow White with an offer to live her life with Charming in peace – with the caveat that she give up her claim to the throne – Charming makes it his mission to ensure that Snow doesn't take the offer.
3

"Quite a Common Fairy"

Alex Zakrzewksi
Jane Espenson
October 13, 2013
7.53[24]
In their continuing quest to find Peter Pan's hideout and save Henry, Hook suggests tracking down Tinker Bell in the hope that she will lead them straight to his camp. Pan reveals to Henry why he has brought him to Neverland and in the Enchanted Forest, Neal has a plan that could transport him to Emma, but it would involve using one of Robin Hood's most precious possessions. Meanwhile, in the Fairy Tale Land that was, Tinker Bell offers to help Regina improve her life.
4

"Nasty Habits"

David Boyd
David H. Goodman &
Robert Hull
October 20, 2013
7.05[25]
Mr. Gold makes a decision to confront Pan, but will he go there to save Henry or give in to the prophecy that the boy will be his undoing? Neal finds himself back in Neverland and in the custody of one of Pan's most loyal Lost Boys. And David struggles for his life as the poison continues to take its toll on him. Meanwhile, in the Fairy Tale Land that was, Rumplestiltskin goes in search of a missing Bae, who has followed a mysterious figure who steals away children with his music.
5

"Good Form"

Jon Amiel
Christine Boylan &
Daniel T. Thomsen
October 27, 2013
7.0[26]
With the deadly Dreamshade coursing through David's body and close to death, Hook takes him on one last journey to find a sextant that could help them decipher a map that would lead them off Neverland. Meanwhile, in the Fairy Tale Land that was, Killian Jones – aka Hook – and his brother, Captain Liam, sail off under orders of the King to find a powerful indigenous plant on an uncharted land that could help heal any injury.
6

"Ariel"

Ciaran Donnelly
Edward Kitsis &
Adam Horowitz
November 3, 2013
7.55[27]
Back in the Fairy Tale Land that was, when Ariel saves Snow White from drowning in the ocean's depths, Snow returns the favor by helping her new friend get acquainted with Prince Eric, with whom she has fallen madly in love with. Meanwhile, Emma, Mary Margaret, David and Hook attempt to save Neal, who is imprisoned in one of Pan's encampments, and Regina and Mr. Gold begrudgingly team up to find a way to take down Pan.
7

"Dark Hollow"

Guy Ferland
Kalinda Vazquez &
Andrew Chambliss
November 10, 2013
6.71[28]
Mr. Gold and Regina send Ariel back to Storybrooke with an item that will allow Belle to locate a hidden artifact that could help take down Pan. But unbeknownst to them, two men have broken into the town with the intent to stop them – at all costs. Meanwhile, Emma, Neal and Hook attempt to find Dark Hollow, where Peter Pan's shadow dwells, in order to capture it, and Mary Margaret is upset with David for keeping his poisoning a secret from her.
8

"Think Lovely Thoughts"

David Solomon
David H. Goodman &
Robert Hull
November 17, 2013
6.66 [29]
Pan leads Henry to a secret cave, where he has convinced the boy that he alone can save magic and Neverland itself. But a showdown between good and evil is about to go down as Emma, Mary Margaret, David, Regina, Mr. Gold, Neal and Hook find themselves directly on a path to Pan in an effort to save Henry. Meanwhile, back in the Fairy Tale Land that was, young Rumplestiltskin is given a magical item that could help him make a fresh start with his father -- who has been anything but a good dad.
9

"Save Henry"

Andy Goddard
Christine Boylan &
Daniel T. Thomsen
December 1, 2013
6.60 [30]
While Henry's life hangs in the balance, the race is on to stop Pan from gaining full magical powers from the heart of the truest believer. Meanwhile, in Storybrooke of the past, Regina decides to fill a void in her life and, with Mr. Gold's help, sets out to adopt a baby.
10

"The New Neverland"

Ron Underwood
Andrew Chambliss
December 8, 2013
6.94[31]
The residents of Storybrooke are overjoyed upon the return of Henry and our heroes from Neverland. But unbeknownst to them, a plan is secretly being put into place by a well-hidden Pan that will shake up the very lives of the townspeople. Meanwhile, in the Fairy Tale Land that was, Snow White and Prince Charming's honeymoon turns out to be anything but romantic when they go in search of a mythical being that could stop Regina cold in her tracks.
11

"Going Home"

Ralph Hemecker
Edward Kitsis &
Adam Horowitz
December 15, 2013
6.44[32]
The race is on to stop Pan from enacting another curse on the residents of Storybrooke, which could kill every living soul in town.
12

"New York City Serenade"

Billy Gierhart
Edward Kitsis &
Adam Horowitz
March 9, 2014
7.3[33]
After Rumplestiltskin sacrificed his life to stop Pan from enacting another curse, Regina obliterated her original curse, which erased Storybrooke from existence and whisked its residents back to Fairy Tale Land – leaving Emma and Henry back in our world with no memories of Storybrooke. But all is not well back in the Enchanted Forest when Hook comes calling on Emma in New York City in an attempt to jog her memory so that she can once again help her fairy tale family and friends out of a desperate situation.
13

"Witch Hunt"

Guy Ferland
Jane Espenson
March 16, 2014
7.47[34]
Emma arrives in Storybrooke with Henry and reunites with her friends and family, only to discover that no one remembers how they were transported back – or the past year they had spent back in Fairy Tale Land. But Emma is sure that someone in town is responsible for this new curse and teams up with Regina in an attempt to uncover their identity. Meanwhile, in the Fairy Tale Land that was during the past year, Regina, with the aid of Robin Hood, attempts to break into her castle, which has been overtaken by the Wicked Witch.
14

"The Tower"

Ralph Hemecker
Robert Hull
March 23, 2014
6.61[35]
While Emma, David, Regina and Hook continue their search for the Wicked Witch, she, in turn, is planning a dark surprise for David, and Zelena's prisoner is powerless under her watch as she plots her next course of action against the townspeople. Meanwhile, in the Fairy Tale Land that was in the previous year, Prince Charming stumbles upon Rapunzel, who is trapped inside a tower, and must help her confront her fears in order for her to be free.
15

"Quiet Minds"

Eagle Egilsson
Kalinda Vasquez
March 30, 2014
6.64[36]
Neal finds himself back in Storybrooke and yearns for a way to reconnect with his son Henry, whose memories of his father are gone, while also trying to find his own father, Rumplestiltskin, whom he has just learned is alive but missing, and Regina discovers a possible connection with Robin Hood. Meanwhile, in the Fairy Tale Land that was over the past year, agonizing over the death of his father, Neal - with the help of Belle and enchanted candelabra Lumiere - attempts to find a magical solution to bring back Rumplestiltskin from the dead.
16

"It's Not Easy
Being Green"

Mario Van Peebles
Andrew Chambliss
April 6, 2014
6.68[37]
With Rumplestiltskin as her slave, Zelena challenges Regina to a fight to the death and shocks the Evil Queen with the reveal of their familial connection, and the town lays Neal to rest. Meanwhile, back in the past in the land of Oz, a jealous Zelena asks the Wizard to send her to Fairy Tale Land after discovering that she has a sister, Regina, and that Rumplestiltskin is training her to become a powerful force to be reckoned with.
17

"The Jolly Roger"

Ernest Dickerson
David H. Goodman
April 13, 2014
6.50[38]
Ariel returns to Storybrooke and pleads with Hook to help her find Prince Eric, who never returned to the town when the new curse was invoked. Emma agrees to let Regina teach her how to use magic so that she can help defeat Zelena, and Mary Margaret and David try to prove that they can be just as much fun as Hook is with Henry -- who thinks they are boring. Meanwhile, in Fairy Tale Land during the past year, an angry Ariel confronts Hook over her missing Prince Eric, who she assumes was kidnapped and possibly killed by the swarthy pirate. But when Hook confesses that the Jolly Roger has been stolen and Eric is most likely the thief's prisoner, Ariel unknowingly provides him with a clue as to who the culprit is, and Hook – with Ariel in tow - goes off in search of his ship.
18

"Bleeding Through"

Romeo Tirone
Jane Espenson and
Daniel T. Thomsen
April 20, 2014
5.95[39]
After Zelena steals Regina's heart, Regina casts a spell so that she can speak across the realms to her dead mother, Cora, to discover the truth about why she abandoned Zelena, and Belle stumbles across what Zelena's ultimate end game is. Meanwhile, in the Fairy Tale Land that was, young Cora is duped by a man claiming to be a prince and finds herself alone and pregnant. But a chance meeting with a real prince could lead Cora to the royal life she's always craved, but she must keep her pregnancy a secret or risk losing everything.
19

"A Curious Thing"

[40]
Ralph Hemecker[40]
Edward Kitsis &
Adam Horowitz[40]
April 27, 2014[40]
TBD
Zelena threatens to kill Henry if Hook - whose lips have been cursed by the Wicked Witch -- doesn't proceed with kissing Emma, which will drain all of her magical powers away, and things begin to heat up between Regina and Robin Hood. Meanwhile, back in the Fairy Tale Land that was during the past year, Snow and Charming go in search of Glinda, The Good Witch of the South, to see if she can help them defeat Zelena, and the curse that will ultimately send the Fairy Tale characters back to Storybrooke is cast -- but from an unlikely source.[40]
20

"Kansas"[41]

TBA
Andrew Chambliss &
Kalinda Vazquez[41]
May 4, 2014[42]
TBD
21

"Snow Drifts"[43]

TBA
David H. Goodman &
Robert Hull[43]
May 11, 2014[44]
TBD
22

There's No Place Like Home[45]

TBA
Edward Kitsis &
Adam Horowitz[45]
May 11, 2014[44]
TBD
References