---
---
---
The Once Upon a Time Wiki is the official community site dedicated to the hit ABC television series Once Upon a Time and its related media, including its spinoff Once Upon a Time in Wonderland, books, and graphic novels. Anyone can edit here, we can only grow with YOUR help.

If you're new to this wiki, please look at our site policies and take a moment to check out the Wikia tutorial. If you have any problems please ask one of the admins for help.
---
---

"Swan Song"

is the eleventh episode of

Season Five

of

ABC

's hit television series

Once Upon a Time

. It is the ninety-ninth episode of the series overall, and premiered on December 6, 2015.


The dark siege of Storybrooke is underway as all of the resurrected Dark Ones target a living soul for sacrifice so that they can return to the realm of the living. With doom imminent, Gold advises Mary Margaret, David and the rest of the heroes to spend their last fleeting moments enjoying the company of their loved ones. Emma, however, refuses to give up, knowing that she is responsible for righting all the poor choices she made as Dark One - there's only one problem, Dark Hook. When they face-off with the fate of Storybrooke at stake, Hook's actions will devastate Emma in a way no one saw coming. In a Fairy Tale Land flashback, the Evil Queen tests Hook's mettle by forcing him to confront a demon from his past before contracting him to dispatch one from hers.

00:30

5x12 - Souls of the Departed - Promo

"Souls of the Departed"

is the upcoming twelveth episode of

Season Five

of

ABC

's hit television series

Once Upon a Time

. It will be the hundredth episode of the series overall, and will premiere on March 6, 2016.


Emma, Regina, Mary Margaret, David, Robin, Henry and Gold arrive in the Underworld, on a mission to rescue Hook, only to discover that their search will be more difficult than they had anticipated. The inhabitants of the Underworld—all souls with unfinished business and many with quite personal vendettas—hound our heroes at every turn. Meanwhile, in an Enchanted Forest flashback, a familiar face from the Evil Queen's past returns to present Regina with the perfect birthday gift.
---
MORE CHARACTERS
---
---
Once Upon a Time is ABC's hit fantasy drama. It premiered on October 23, 2011.

Emma Swan's life has been anything but a fairytale. A 28-year-old bail bondsperson, she's been taking care of herself since she was abandoned as a baby. But when Henry, the son she gave up for adoption 10 years ago, finds her, everything changes. Henry is desperate for his mom's help, and he thinks that Emma is actually the long-lost daughter of Snow White and Prince Charming.

Even stranger, Henry believes that Storybrooke, the sleepy New England town he calls home, is really part of a curse cast by the Evil Queen, freezing fairytale characters in the modern world with no memory of their fairytale selves. Of course, the seen-it-all Emma doesn't believe a word; but when she gets to Storybrooke, she can't help sensing that nothing is quite what it seems.

Season One premiered on October 23, 2011.
Season Two premiered on September 30, 2012.
Season Three premiered on September 29, 2013.
Season Four premiered on September 28, 2014.
Season Five premiered on September 27, 2015.


Once Upon a Time in Wonderland is ABC's spin-off series of Once Upon a Time.

In Victorian England, the young and beautiful Alice tells a tale of a strange new land that exists on the other side of a rabbit hole. An invisible cat, a hookah smoking caterpillar and playing cards that talk are just some of the fantastic things she's seen during this impossible adventure. Surely this troubled girl must be insane and her doctors aim to cure her with a treatment that will make her forget everything. Alice seems ready to put it all behind her, especially the painful memory of the genie she fell in love with and lost forever — the handsome and mysterious Cyrus. But deep down Alice knows this world is real and just in the nick of time, the sardonic Knave of Hearts and the irrepressible White Rabbit arrive to save her from a doomed fate. Together, the trio will take a tumble down the rabbit hole to this Wonderland where nothing is impossible.

The show premiered on October 10, 2013 and concluded on April 4, 2014.
---
MORE LOCATIONS
---

---
---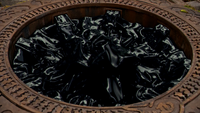 The Darkness
is a magical entity featured on
ABC
's
Once Upon a Time
. It first appears in the
first episode
first season
.
The Darkness is hosted by a human known as the Dark One. This individual possesses great magic power and immortality, but is prone to amoral dealings. Rumplestiltskin was a well-known Dark One for centuries after he killed the previous Dark one, Zoso, using the Dark One's Dagger. He was replaced for a time by Emma Swan.

READ MORE
---
---
| | | |
| --- | --- | --- |
| " | Your prison--all of our prisons—will be time. And time will stop. And we will be trapped, someplace horrible, where everything we hold dear, everything we love will be ripped from us while we suffer for all eternity, while the Queen celebrates, victorious at last! ...No more happy endings. | " |
---
---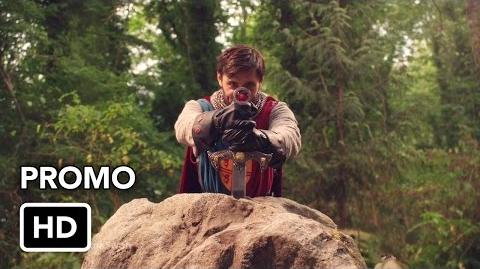 ---
---
---
---
Which character are you most excited about coming back?
Current Poll: This poll was suggested by wiki user Magical Oncer.
Last Poll: After 178 votes, 133 people (74.72%) chose Rumplestiltskin as the best Dark One!
---
---
Wikia:
Once Upon a Time
The superfan's guide to Once Upon a Time - created by fans, for fans.

Enjoy the Once Upon a Time Wiki in an all new way by downloading this App from either Google Play or Itune's App Store, and find in-depth articles about every character, item, location and more!
---
"Mirror, Mirror in the Wall.
Show me one character of them all!"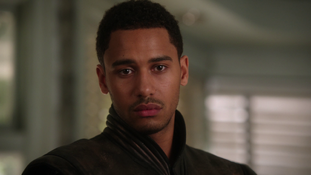 ---
---
---

---
---

Be sure to check out our affiliated wikis!

---
---