Home
Talk

0
1,182pages on
this wiki
---
---
The Once Upon a Time Wiki is the official community site dedicated to the hit ABC television series Once Upon a Time and its related media, including its spinoff Once Upon a Time in Wonderland, books, and graphic novels. Anyone can edit here, we can only grow with YOUR help.

If you're new to this wiki, please look at our site policies and take a moment to check out the Wikia tutorial. If you have any problems please ask one of the admins for help.
---
---

"A Tale of Two Sisters" is the upcoming first episode of Season Four of ABC's hit television series Once Upon a Time.

A scared and confused Elsa finds herself in Storybrooke and, fearful of the intentions of its residents, creates a powerful snow monster for protection. With Robin Hood's wife, Marian, back in the picture, Regina wonders if her "happily ever after" with the former thief has been completely quashed; while on their honeymoon, Mr. Gold finds an intriguing object that makes him question whether or not he should officially give Belle control over the dagger that makes him The Dark One, and Hook is dismayed to discover that Emma seems to be avoiding him while she tries to help comfort Regina after being the one responsible for bringing Marian back from the past and into Storybrooke. Meanwhile, in Arendelle of the past, as Elsa's sister Anna's wedding to Kristoff nears, Anna discovers that their parents – who died on-ship during a violent storm – were heading to a mysterious destination in a quest that may have held the secret to containing Elsa's out of control Ice powers. And against Elsa's wishes, Anna wants to finish their journey to find out what they were looking for.

"White Out" is the upcoming second episode of Season Four of ABC's hit television series Once Upon a Time.
While desperately trying to find her sister Anna, Elsa is startled by Emma and accidentally traps them both inside an ice cave, with the frozen temperature placing Emma's life in peril. Regina, depressed over her likely breakup with Robin Hood, secludes herself away from the town and Henry, which saddens her son. And with the townspeople considering Mary Margaret their leader, she faces her first leadership task in trying to re-start a generator and restore the town's electricity after Elsa freezes and damages the power lines. Meanwhile, in the Enchanted Forest of the past, Anna tries to teach a meek David to fight Bo Peep, a brutal warlord who is threatening to take his and his mother's farm away if they don't pay her price.

"White Out" will premiere on Sunday, October 5, 2014.

READ MORE
---
---
Once Upon a Time is ABC's hit fantasy drama. It premiered on October 23, 2011.

Emma Swan's life has been anything but a fairytale. A 28-year-old bail bondsperson, she's been taking care of herself since she was abandoned as a baby. But when Henry, the son she gave up for adoption 10 years ago, finds her, everything changes. Henry is desperate for his mom's help, and he thinks that Emma is actually the long-lost daughter of Snow White and Prince Charming.

Even stranger, Henry believes that Storybrooke, the sleepy New England town he calls home, is really part of a curse cast by the Evil Queen, freezing fairytale characters in the modern world with no memory of their fairytale selves. Of course, the seen-it-all Emma doesn't believe a word; but when she gets to Storybrooke, she can't help sensing that nothing is quite what it seems.

Season Three premiered on September 29, 2013.

Once Upon a Time in Wonderland is ABC's spin-off series of Once Upon a Time.

In Victorian England, the young and beautiful Alice tells a tale of a strange new land that exists on the other side of a rabbit hole. An invisible cat, a hookah smoking caterpillar and playing cards that talk are just some of the fantastic things she's seen during this impossible adventure. Surely this troubled girl must be insane and her doctors aim to cure her with a treatment that will make her forget everything. Alice seems ready to put it all behind her, especially the painful memory of the genie she fell in love with and lost forever — the handsome and mysterious Cyrus. But deep down Alice knows this world is real and just in the nick of time, the sardonic Knave of Hearts and the irrepressible White Rabbit arrive to save her from a doomed fate. Together, the trio will take a tumble down the rabbit hole to this Wonderland where nothing is impossible.

The show premiered on October 10, 2013 and concluded on April 4, 2014.

---
Tweets by @OUaTWiki
---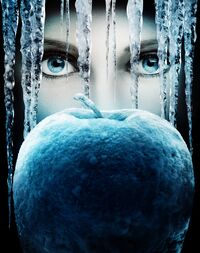 Season Four
is the currently premiering season of
ABC
's
Once Upon a Time
. Season four was officially announced on May 8, 2014.
Filming began on July 9, 2014 and is scheduled to last until April 2, 2015. The season premiered on September 28, 2014 with "A Tale of Two Sisters".
---
---
| | | |
| --- | --- | --- |
| " | How can she remember who you are, when she's lost sight of who she is? | " |
---
---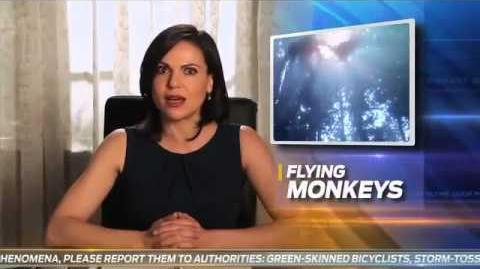 ---
---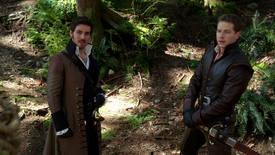 ---
---
Which upcoming episode are you looking forward the most?
Last poll: Following 871 votes, 600 people (68.89%) think Giancarlo Esposito will return for a regular scene as either of the characters he portrays.
---
---
MORE CHARACTERS
---
MORE LOCATIONS
---
---
---
The Once Upon a Time wiki and its sister sites are not affiliated with ABC, Disney, or ABC Studios. All trademarks, copyrights and/or legal ownership of items are property of their respective owners. This wiki is a fun, informative guide for all Once Upon a Time fans to use as they see fit.